QEPAS (Quartz Enhanced Photoacoustic Spectroscopy) kits
and complete systems
Control and Data processing systems for Diode Laser Spectroscopy
QEPAS is a novel photoacoustic gas detection technique. The key QEPAS feature - using the high-Q quartz resonator as the acoustic signal detector instead of the conventional microphone. This gives new advantages to classic photoacoustic detection principles:
Zero baseline drift for hours
Miniature size of the absorption detection module (ADM)
Superior absorption sensitivity per unit optical path length among all detection methods
Absence of the adjustable elements in the ADM
High dynamic range (from ppb level to 100% concentrations)
The sensitivity is the same as for classic laser photoacoustic spectroscopy technique
Low sensitivity to external acoustic noise
Ultra small gas volume in the sensing element - near 1 mm3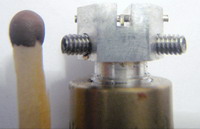 The QEPAS ADM module. The NNEA (Normalized noise equivalent absorption) for NH3 at 1.53 um is 3.3·10-9 cm-1W/Hz-1/2. Ammonia detection limit in the air - 25 ppb for 10 second integration time.
QEPAS method was invented by A.A.Kosterev at RICE Quantum Institute in 2002, and then developed in close cooperation with CDP Systems Corp.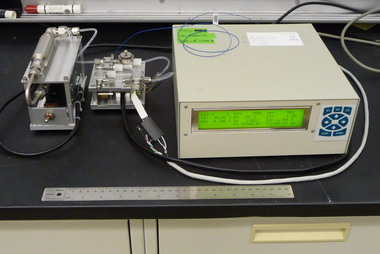 QEPAS gas detector at RICE. CDP Systems QEPAS Control unit (right), gas inlet system (left). Photo by A.A.Kosterev
CPD Systems produces various types of control units for multispecies QEPAS measurements. The control unit includes DFB or QCL laser driver with precision temperature control, low noise modulation signal syntesizer, laser frequency stabilization loop with reference gas cells, 24-bit high-speed ADC, digital lock-in and data logging flash.
Each control unit can support up to 4 reference cells with different gases, one main and 3 additional DFB laser source (or a multichip DFB laser with SOA) and 2 ADM.
Control unit also supports the external Quantum Cascade (QC) mid-IR laser in AM (detection on modulation frequency) and FM (detection on second acoustic harmonic) modes.
The device can be programmed for up to 10 different consecutive measurement modes (laser selection, laser current and temperature, ADM and reference cell selection, absorption line locking mode, MEMS optical switch state, etc.) for different species detection.
The control unit periodically performs automatic zero and ADM parameters (Q-factor, loss resistance, resonant frequency) calibration.

Specifications:
ADM tuning fork frequency range: 5000 - 50 000 Hz
ADM tuning fork Q-factor: 700 - 150 000
Supports DFB lasers in butterfly and TO (optional) cases
Maximum internal and external DFB lasers current: 600 mA
Maximum internal QCL laser current: 1500 mA
Laser chip temperature range: -10 +40 °C
Acoustic signal detection at ADM thermal noise limit
Power supply: universal AC or rechargeable Li-ion cells with the external AC adapter (6+ hours of autonomous work)
Computer interface: serial/USB, protocol compatible with LabView® programming environment
Humidity and temperature sensors for monitoring the gas properties
Programmable operation modes: 10
Supports up to 4 DFB laser sources in one configuration
Please, send your questions and requests to
qepas@cdpsystems.com
for faster response.