ExciPro
Professional Femtosecond Transient Absorption Spectrometer
ExciPro is the first on the market femtosecond transient absorption pump-probe spectrometer. Two linear image sensors are placed in the focal in the focal plane of an imaging spectrograph to measure probe and reference spectra originating from femtosecond white light continuum generator. The reference channel is used in transient absorption measurements to get best optical density (OD) changes sensitivity. New completely computer-controlled ExciPro-XL is available with compact electronics and LabVIEW based data acquisition software.
Professional pump-probe spectrometer with probe and reference channels

<100 fs

time

resolution

Computer-controlled imaging spectrograph

Femtosecond continuum collection with off-axis parabolic mirror

Patented rotation / magnetically stirred sample holder

Anisotropy measurements with Berek variable waveplate

Computer control of detectors, spectrograph, delay line operation and alignment, pump beam alignment, XY-translation sample holder, UV continuum generator, filter wheel

LabVIEW based software for system control and data acquisition

Surface Miner Pro data analysis software

Confocal Microscope Extension

Extension for transient absorption measurements on nanosecond- microsecond time scale

ExciLite budget femtosecond pump-probe system without the reference beam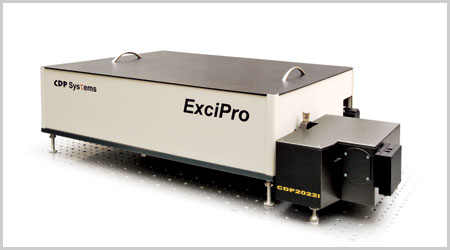 Specifications:
Continuum (probe) spectral range: 320 nm - 1600 nm

Better than 0.1 mOD optical density changes sensitivity (2x10-5 OD typically)

Tine resolution: better than 100 fs for thin samples

Maximum input laser pulse repetition rate: 8 kHz

Spectral resolution: < 2 nm with 0.1 mm monochromator slit

Optical delay line range: 2.0 ns (4.0 ns or 8.0 ns optionally)

Minimum step: 0.52 fs for 2 ns delay line

Beam pointing drift for automated delay line alignment: <10 microns

XY-translation sample holder: 12 mm x 12 mm

Maximum long-time window extension: 0.4 ms

Time resolution for long-time window extension: 1 ns

Optical unit dimensions: 760 mm x 600 mm x 200 mm

Spectrograph dimensions: 320 mm x 200 mm x 160 mm
Detectors:
1024-pixel CMOS or 2048-pixel CCD linear image sensors for spectra detection at 300 nm - 1000 nm
256-pixel InGaAs linear image sensors for spectra detection at 900 nm - 1700 nm
Spectrograph:
Computer-controlled imaging spectrograph with 1-grating or 4-grating turret, aberration corrected configuration and two fiber cables coupled to the input. Two (probe and reference) UV-VIS and two IR linear image sensors are simultaneously mounted into two switchable outputs. The spectrograph can be equipped with high resolution or / and panoramic gratings.
Data Analysis Software:
Surface Miner Pro makes analysis of transient absorption spectra and corresponding kinetics, simultaneous display of kinetics and spectra, 2D and 3D display for dynamic surfaces, averaging of multiple surfaces, quick and easy normalization of kinetics and spectra, subtraction of scattered light and background, anisotropy calculation, chirp correction and time zero adjustment, kinetics deconvolution and fitting at individual wavelengths and global kinetics fitting analysis.